The An Giang weather bureau warned that the water level in the Tien River in Tan Chau has risen to 3.06 meters, or above alarm level 1, and 2.31 meters in the Hau River in Chau Doc town.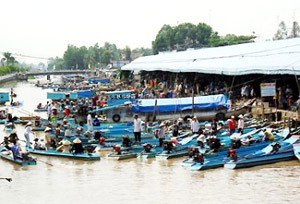 Demand for wooden boats soars during the flood season in the Mekong Delta
The Meteorology and Hydrology Forecasting Center said the water level at the riverhead in the Mekong Delta is continuing to rise by 5-7 centimeters a day.
 
But farmers in the delta use the floods to grow crops -- they have grown vegetable and other plants on 10,564 hectares and mushroom on 4,500 ha, and farm shrimp and eel in hundreds of hectares of ponds.
 
Dong Thap farmers take advantage of overflowing rivers to rear fish and shrimp.
 
Nguyen Van Chi, owner of a wooden boat factory in Dong Thap's Lai Vung District, said demand for boats soars during the flood season.
 
The costs have increase by VND50,000-70,000 in the last month to VND370,000 for a one-meter boat and VND400,000-450,000 for a 1.1-meter boat.