Unseasonal torrential rains in central provinces from Dec. 29 to Jan. 1 have caused floods, damaging lots of crops. Human and property losses have been reported.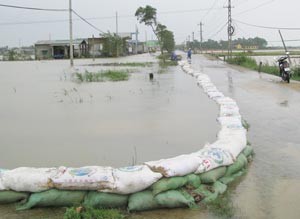 A flooded area in Thua Thien-Hue Province (Photo: SGGP)
Floods in Quang Nam Province submerged roads and residential areas in Tam Ky and Hoi An cities, causing traffic jams in many places on Jan. Four deaths and missing have been reported.

In the province, 7,000 hectares of rice have been flooded, affecting the production rate of the winter-spring crop.

Many areas in Khanh Hoa Province have also suffered from flash floods. In Cam Ranh town, floods killed one person, submerged 20 houses and over 4,570 hectares of the winter-spring rice.

Torrential rains have caused widespread flooding in Binh Dinh Province and heavily damaged the newly-sowed rice fields.

Many areas in Quang Ngai province have been surrounded by floodwater. Thua Thien-Hue Province has also suffered from flash floods.

Waters were now increasing in main rivers in the region.
The National Committee on Flood and Storm Preparedness has asked the administrations of the central provinces to promptly take action in protecting local residents and property, and deploy forces in necessary positions.