Floods reached alarmingly high levels at the Mekong Delta riverhead yesterday and were forecast to continue to rise at the Tien and Hau rivers, the Dong Thap Muoi and Long Xuyen regions in the south during the next few days as the high tide is coming in.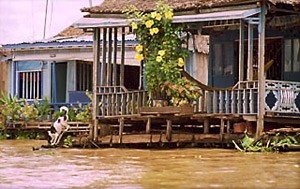 Flood waters reach high levels at the Tien and Hau rivers
The water level reached 4 meters (under alarming level grade 3) at the Tien River in Tan Chau, and 3.54 meters (over alarming level 3) at the Hau River in Chau Doc.
The heavy floods submerged many roads, riverside houses and obstructs traffic besides inundating many downriver regions in the past few days.
It has also ravaged farms and threatened dozens of thousands of hectares of orchards in districts of Lai Vung, Lap Vo, Chau Thanh (Dong Thap Province), Binh Minh (Vinh Long Province), and Cai Be, Cai Lay (Tien Giang Province).
Many schools in communes of Nhon Hoi, Phu Hoi and Vinh Hoi Dong in An Giang Province's An Phu District are severely flooded.
Local authorities have to arrange to take pupils to schools by boats, said Huynh Van Tha, vice chairman of the distrct People's Committee.
 
The province is doing its utmost to protect inhabitants during this great flood, he added.