Raging floodwaters accompanied by strong winds have totally destroyed a part of the Tha La dyke and threatening to inundate thousands of hectares of autumn-winter rice crops in An Giang Province.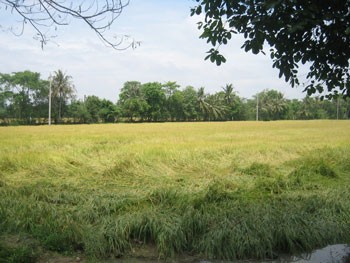 File photo of a rice field in the Mekong Delta (Photo: Khanh Huy)
The 8km-long dyke runs across Vinh Chau and Vinh Te communes in Chau Doc Town and protects nearly 6,000 hectares of rice growing area.
Floodwater levels reached 3.65 meters, 1.66 meters higher than previous years. They are expected to rise further because of high tide in September and October.
Local authorities are cooperating with residents to protect the dyke and salvage thousands of hectares of rice crops.
Heavy rainfall caused a massive landslide along a 70m-long stretch of land along the Tien River in Vinh Lac hamlet of Vinh Hoa commune in Tan Chau town on September 21.The local government moved swiftly and evacuated three households to a safe place.