Twenty communes in Ky Son District in the northern central province of Nghe An were cut off by floodwaters till late yesterday afternoon, with the exception of just a few villages.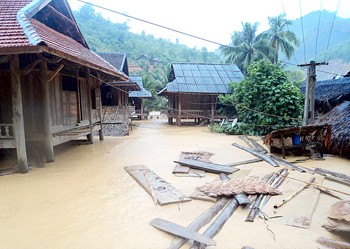 Flood ravaged homes in Tuong Duong District of Nghe An Province (Photo: SGGP)
Bui Tram, chairman of People's Committee in Ky Son District said that 115 homes had already collapsed or swept away in the district and 700 others badly destroyed.
Local authorities have compensated VND10 million each to persons who have lost their homes and VND5 million each to those whose houses have been damaged. Rice will also be delivered to them for the next several days till the floodwaters recede.
The army, police and the youth have joined hands to rebuild homes and officials have been dispatched to remote and isolated villages to help stranded residents.
One man is said to be missing in Nga My Commune of Tuong Duong District where nearly 300 houses have been swept away. Soldiers and police officials are helping in delivering rice to marooned areas and rebuild their homes.
Quynh Hop District where hundreds of hectares of crops ly submerged also reported one woman as missing.
Landslides along two sections of Highway 7 leading to the mountainous district of Ky Son, were inaccessible by trucks and only motorcycles and small cars could pass through.
According to the Steering Committee for Flood and Storm Prevention, floodwaters have so far killed one, injured two with three reported missing in Nghe An Province. Damage to property is estimated at over VND1 trillion (US$47 million).
At a meeting hosted yesterday afternoon to deal with the flood aftermath, Phan Dinh Tac, provincial Party Committee Secretary instructed authorities to delay all meetings and concentrate on rescue and recovery work. He said everyone must now help to provide local people with food, help them rebuild their homes, search for missing people and help in sterilizing residential areas to prevent outbreak of diseases.
In related news, torrential rains in the Central Highlands over the last week have caused flooding in several places.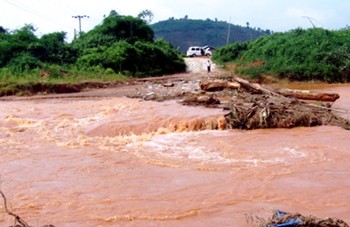 Heavy rains caused flashfloods in the Central Highland provinces (Photo: SGGP)
Rainfall measured 150-300mm in Dak To District of Kon Tum Province, Pleiku town and Chu Pah District in Gia Lai Province, Gia Nghia District in Dak Nong Province and Bao Loc District in Lam Dong Province.
Lak District in Dak Lak Province is the worst affected with thousands of hectares of crops underwater.
Flashfloods in Kon Tum have devastated vast areas.  Prolonged heavy rains have raised the water levels in Dak To Kan River, which is now overflowing and has cut off about one kilometer of a main road. 
The main traffic route connecting Dak Tram Commune in Dak To District with Dak Na, Dak Sao, Dak To Kan and Dak Ro Ong Commune in Tu Mo Rong District has been cut off.
Related articles:
Floods threaten central region
'Haima' storm weakens, rains unabated
15 dead, missing in 'Haima' typhoon
Tornado, flashfloods kill six