After floods receded, thousands of households in Tuy Phuoc suburban district, Binh Dinh province had to quickly buy rice seeds to sow winter-spring crop. However, just after rice was replanted floods returned causing farmers added financial hardship.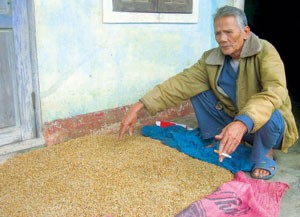 Farmer Nguyen Xuan Mai sits next to waterlogged rice seeds

Lack of rice seed
In Tuy Phuoc suburban district cultivation of the winter-spring crop began half a month ago but now many fields are submerged. Farmers have had to use sandbags to create banks to prevent water flowing into other fields and bail out water to rescue rice seed.
Farmers distraught when they saw flooded fields.

Nguyen Xuan Mai, 76, from Tuy Phuoc suburban district, said his family had planted 6.5 poles (15 hectares) of rice seed, a day later the land was submerged. The seeds were destroyed.
Many fields were flooded, leaving farmers with few seeds. Having only edible rice left, farmers have resorted to planting this, as they fear missing winter-spring season.
Phuoc Hoa commune People's Committee reports 400 hectares were flooded and needs 56 tons of seed to replant.
The head of Phuoc Hoa cooperative said there are 670 kilos of stored seed but the cooperative could not buy more as it had run out of money. Similar situations have occurred in communes throughout Binh Dinh province.
Farmers seek help from central government
Nguyen Bay, manager of Tuy Phuoc suburban district Agriculture and Rural Development Department, 2,400 hectares were flooded and 1,200 hectares of newly seeded rice fields were spoiled.
The District has resorted to 'TBR1' seed, poor quality rice, which decreased in price last year, Mr Bay said.
However, the District does not even have enough TBR1 seeds to sell, he added.
Ho Ngoc Hung, deputy of Binh Dinh province Agriculture and Rural Development Department, said the province needs 350 tons of seed but has only 100 tons in stock and 75 tons from China.
The Binh Dinh People Committee has petitioned central government to provide urgent support and provide rice seed for this year's winter-spring crop.
Binh Dinh province reported more than 15,000 hectares of rice flooded and many parts of its dyke system damaged. The provincial administration has allocated VND1.5 billion in emergency aid to support farmers in the affected areas.
Water levels in the central provinces' major rivers are forecast to keep rising and may the first and second alert levels. The National Hydro-meteorological Forecasting Centre has warned of more floods in provinces from Quang Ngai to Phu Yen in the coming days.