The National Hydro Meteorological Forecasting Center says that even though the rains have abated somewhat in the north by yesterday, river waters continue to rise, raising the threat of flooding in the northern central provinces.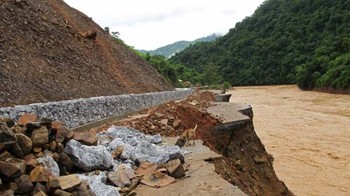 Floods destroy Highway 7 in Tuong Duong District, Nghe An Province (Photo: Tuoi Tre)
By yesterday afternoon, the water levels on Ca River peaked at 22.69m but were slowly receding.
The Steering Committee for Flood and Storm Prevention and the National Search and Rescue Committee have instructed local authorities to gear up and stay alert to cope with floods and reinforce the dyke system.
The committee also asked relevant authorities to evacuate residents from low-lying, riverside areas and places highly prone to landslides, especially from the provinces of Nghe An, Thanh Hoa and Ha Tinh.
Typhoon 'Haima' has so far killed at least 16 people, with four still missing and over 200 others injured with 63 suffering serious wounds.
The storm caused floods and devastated 14,250 hectares of rice crop and vegetables. The hardest hit provinces have been Thai Binh, Nghe An, Ninh Binh, Nam Dinh and Thanh Hoa. Some sections of the sea dyke in Nam Dinh and Hai Phong City has seen landslides.
Related articles:
'Haima' storm weakens, rains unabated
15 dead, missing in 'Haima' typhoon
Tornado, flashfloods kill six