Northern Viet Nam, where flash floods and landslides triggered by a weekend storm have killed at least 100 people, is facing a low pressure in the Tonkin Gulf.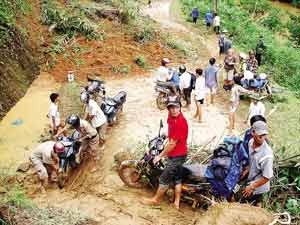 Landslides block a road in the northern province of Lao Cai (Photo: SGGP)
The low pressure is bringing heavy rains to the northeast region and the midland of the north from August 11 to 13. According to the national weather bureau, the low pressure has influenced on the coastal provinces from Hai Phong to Thanh Hoa.
In the Tonkin Gulf, the sea is rough. Rains brought by the low pressure are forecast to cause more floods and landslides in northern mountainous areas, where water in the river is rising to alarming levels.
According to the national weather bureau, floodwater in the Thai Binh River and downstream Red River is increasing. It is less likely that the low pressure will develop into a storm, but it is bringing rains to almost northern provinces.