Floodwaters continued to isolate several residential areas in the central provinces of Binh Dinh and Phu Yen on Thursday afternoon, causing traffic to come to a standstill.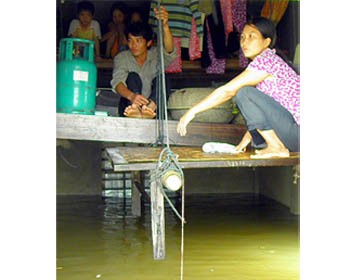 Several people still remained stranded by floodwaters in Quang Ninh and Le Thuy District on October 20 (Photo: SGGP)
Two people were was reported dead and one missing, and in Phu Yen Province a 6km stretch along Road ĐT 641 connecting An Dinh Commune and La Hai town in Dong Xuan District was submerged under 30cm of water.
Floodwaters submerged several homes in Son Nam Commune. Four bridges were inundated under floodwaters cutting off traffic to Xuan Bac and Xuan Phuoc Communes and La Hai town in the district.
A 70 year old man was swept away and is still missing, when his fishing boat overturned in the Tam Giang Dam in Tuy An District.
Two people are reported dead in Binh Dinh Province. 30 year old man Le Van Quyen was washed away on Wednesday while he was moving his belongings in An Hao Commune of Hoai An District.
Nguyen Hong Thao slipped off the Ong Chuong Bridge and drowned in the river in Nhon Phong Commune of An Nhon District on the same day.
A fishing boat was swallowed by high waves off the Tam Quan Bac Harbor in Binh Dinh Province throwing all its 11 fishermen overboard. The army border force managed to rescue them in time.
Heavy rains are forecast and river levels are expected to continue to surge in the two provinces on Friday.
Floodwaters were slowly receding in Quang Binh Province on Thursday. 10,000 households are still stranded in Quang Ninh, Le Thuy and Minh Hoa Districts. Relief aid of food and fresh water   continues to pour in for residents.
The Ho Chi Minh City Committee of the Vietnam Fatherland Front has received VND392 million and over 2,000 kilograms of commodities like rice, medicines and instant noodles from organizations and individuals in and outside the country for flood hit victims.
The committee has also rushed aid of VND7 billion (US$333,000) to help provinces and cities devastated by floods.