Floodwaters on the upper reaches of the Mekong River are flowing above the danger mark of level two for the last few days, causing havoc and devastation across parts of the Mekong Delta.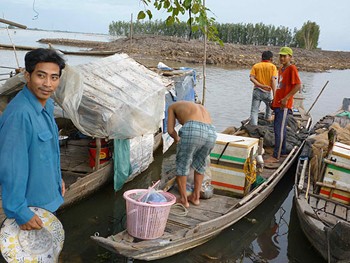 Farmers preparing to haul a catch of fish that flows in with the rising floodwater in Dong Thap Province (Photo: nguoilaodong)
The Southern Regional Hydro Meteorological Centre said the highest level so far was 4.08 meters, exceeding the danger mark of level two by eight centimetres, in Tan Chau area along the Tien River and 3.49 meters in Chau Doc, along the Hau River.
The flood level in Tan Chau is expected to cross 4.15 meters and in Chau Doc it could reach 3.55 meters by September 17, said officials of the centre.
Floodwater levels in Dong Thap Muoi and Long Xuyen Quadrangular are also above the danger mark.
At present, the rapidly rising floodwaters are a threat to thousands of hectares of autumn-winter rice crop in Dong Thap, An Giang, Kien Giang and Long An Province.
To cope with the problem, thousands of cadres and soldiers in Giang Thanh District of the Mekong Delta province of Kien Giang are helping farmers to salvage their rice crop as fast as possible.
An Giang and Dong Thap Provinces are focused on fortifying their dyke systems and areas prone to landslides and also maintaining means for commuting children to and from schools in flood hit areas. Local authorities have been asked to hoard sufficient number of lifebuoys for students in event of any emergency.
Dong Thap province has also instructed the people's committees in its districts and towns to put on hold all construction of irrigation works, to concentrate fully in reinforcing the dykes, ensuring they hold against the gushing strong currents and are built at a higher level than the expected floodwater levels.
According to a report by Giang Thanh District agriculture sector, more than 4,700 hectares of summer-autumn rice crop are lying submerged under floodwater so far.
13,000 hectares of autumn-winter rice crops are also lying submerged under floodwaters in Thoai Son, Chau Thanh and Chau Phu districts of An Gian Province.
Can Tho City leaders have decided to invest VND25 billion in 51 flood prevention projects, to cope with this ongoing annual flood problem.