Floodwaters on the upper reaches of the Mekong River are expected to rise up to an alarming level of 4 metres, causing more devastation in some parts of the Mekong Delta in the next few days.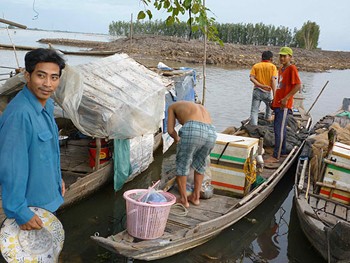 Farmers preparing to haul a catch of fish that flows in with the rising floodwater in Dong Thap Province (Photo: nguoilaodong)
According to the Southern Regional Hydro Meteorological Center, the highest flood level measured so far is 3.57m and 3.22m in Tan Chau on the Tien River and Chau Doc on the Hau River, whereas it is 1.60m in Moc Hoa on the Vam Co Tay River.
As expected, flood levels in Tan Chau and Chau Doc in An Giang Province will continue to rise in the next one month. With floodwaters rising at a rapid pace of 1-4cm a day in the Mekong Delta, local authorities are gearing up to cope with all unforeseen situations.
At present, the rapidly rising floodwaters are a threat to thousands of hectares of autumn-winter rice crop in Dong Thap, An Giang, Kien Giang and Long An Province.
An Giang and Dong Thap Provinces are focusing on fortifying their dyke system and areas prone to landslides and also maintaining means for commuting children to and from schools in flood hit areas. Local authorities have been asked to hoard sufficient number of lifebuoys for students.
Dong Thap province has also instructed the people's committees in its districts and towns to put on hold all construction of irrigation works, to concentrate fully in reinforcing the dykes, ensuring they hold against the gushing strong currents and are at a higher level than the expected floodwater level.