The tropical depression brought in normal to heavy rainfall in most of the central region over the last two days causing severe flooding in several areas, worst hit being Quang Binh and Quang Tri Provinces.
People are marooned by floodwaters in Minh Hoa District of Quang Binh Province (Photo: SGGP)
According to the Steering Committee for Flood and Storm Prevention in Quang Binh Province, floodwaters surged too suddenly for thousands of people to respond to the emergency situation.
Several communes in Minh Hoa District are marooned by floodwaters. People have had to flee to higher ground in Minh Hoa and Tan Hoa Communes.
Hundred of households of the Van Kieu ethnic minority have left their homes to seek shelter elsewhere after flash floods hit Lam Thuy, Ngan Thuy and Kim Thuy Communes of Le Thuy District.
Pham Huu Thao, deputy chairman of the People's Committee in the district said that over 7,000 homes were lying submerged under floodwaters as of 7pm Sunday.
Nguyen Viet Anh, chairman of the People's Committee in Quang Ninh District reported one person missing, 5,000 houses submerged and 14 communes completely isolated.
A three year old boy was swept away in Bo Trach District.
Quang Binh Province has so far reported three dead and missing, due to flooding.
Floodwaters from rivers in Quang Tri Province have submerged people's houses, with many under one meter of water. One person was washed away in Hai Lang District and traffic from the district center to communes has been cut off.
Se Pon River has become more swollen, prompting authorities to evacuate residents from Huong Hoa District.
Three communes have been cut off by floodwaters in Dakrong District, forcing hundreds of households to flee their homes.
A north-south train has been stranded at Dong Ha Railway Station in Quang Tri Province as prolonged heavy rains have submerged some rail tracks from the station to Quang Tri town under 1.5 meters of water.
Meanwhile, heavy rains have inundated several main roads in Da Nang City. Da Nang International Airport has canceled four flights due to torrential rainstorms.
Hundred of passengers were reimbursed train tickets after Da Nang Railway Station announced a delay on the north-south train route after several trains were grounded at stations in Hue and Quang Binh Province.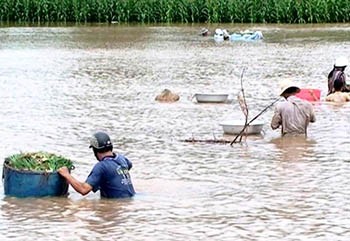 Farmers glean rice inundated in Long Thuan Commune in Hong Ngu District of Dong Thap Province (Photo: SGGP)
More loss reported in Mekong Delta
Floods claimed 44 lives of which 38 were children, in the Mekong Delta. Over 78,000 houses have been flooded and 152 others have collapsed or swept away.
Flooding also caused landslides along 1,500 kilometers of dyke, completely devastated nearly 7,500 hectares of rice crops and damaged 2,600 hectares of aqua-farm area.
Total damage caused by flooding is estimated at VND1.2 trillion (US$57 million) in the entire Mekong Delta. The upper reaches of An Giang and Dong Thap Provinces have been the two hardest hit areas.
Nguyen Trang Su, deputy chairman of the People's Committee in Hong Ngu District of Dong Thap Province said a severe landslide has destroyed a dyke cum roadway in Long Thuan Commune on Sunday afternoon.
The landslide covered the length of 70m and 30m in width, and caused the floodwaters to gush into some fish ponds and submerge 11 hectares of vegetable crops. Local authorities are rushing to save the dyke and have evacuated some of the households to safer grounds.