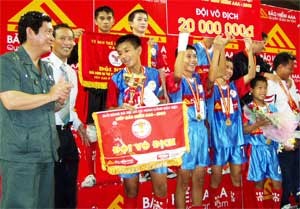 Mr. Huynh Vinh Ai (L), deputy chairman of Viet Nam's National Sports Committee, shares happiness with the champions of the country's football tournament for disadvantaged children in June 2006 in Ho Chi Minh City (Photo: Tuong Thuy)
Spokesman for the Ministry of Foreign Affairs Le Dung on Nov. 13 rejected information in a report of an international human rights group, calling the information "a complete fabrication."
The report of Human Rights Watch said prior to the APEC 2006 Week, street children in Ha Noi were brought to social sponsorship centres and were treated brutally.
"The State and people of Viet Nam have always placed importance on the protection, care and education of children, including underprivileged and street children," the spokesman said, describing the work as "the responsibility of the State, the society and every family" and as "the tradition and morale of the Vietnamese nation."
In order to help disadvantaged and street children, the Government has introduced various specific policies on child healthcare and education and has put forth measures to protect children from the threat of child labour abuse, degradation of human dignity and sexual assault, spokesman Dung said.
He went on to say that agencies and localities, including Ha Noi, have carried out a number of projects to assist street children in reuniting with their families and that those children who cannot reunite with their families have been provided with healthcare, consultancy and vocational training.
"All the measures are aimed at creating conditions for disadvantaged and street children to be protected, cared for and educated in a comprehensive manner so that their lives become better," he said.
Viet Nam was one of the first nations in the world to have signed and ratified the Convention on the Rights of the Child. The country has actively met its commitments to, and cooperated with, the international community in a bid to improve child welfare amid low average per-capita income, said the spokesman.
"Viet Nam's efforts in child care and protection have been recognised and well received by the United Nations, including the UN Children's Fund," the spokesman added.