All resources must be focused on relief, cleaning up the environment, and preventing flood victims from starving, Prime Minister Nguyen Tan Dung said yesterday.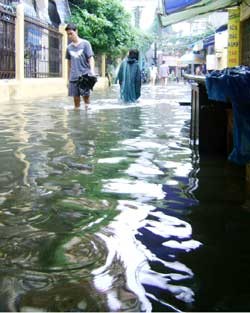 By the time of Monday evening, 44 areas in Ha Noi remain flooded (Photo: SGGP)
In an emergency dispatch to ministries and the provinces of Phu Tho, Vinh Phuc, Ha Noi, Lang Son, Bac Giang, Bac Ninh, Hung Yen, Thai Binh, Ninh Binh, Ha Nam, Hoa Binh, Thanh Hoa, Nghe An, Ha Tinh, and Quang Binh, he ordered the stepping up of relief activities to ensure no victim lacks food.
He also sent his deep condolences to victims and families of people killed in the flooding.
It stopped raining in Hanoi yesterday but the flood water has been receding very slowly. Some new urban residential areas like Van Quan, My Dinh, and Linh Dam remain flooded and traffic remains blocked.
Many rivers in the north, including in Ha Noi, remain at high levels, and some sections of dikes are at risk of collapse, a report by the Ha Noi People's Committee said.
Along the Red River, the dike has been damaged in 13 places, it said.
All efforts must be made to protect the embankment in Ha Noi, particularly in vulnerable areas, secretary of the city Party Committee, Pham Quang Nghi, told the concerned agencies at a meeting yesterday.
By yesterday evening 44 areas in Ha Noi remained flooded, with 29 seriously submerged.
Do Xuan Anh, director of the Construction Department, said the water can be drained by today if there are no unusual developments. More than 300 workers from the Hanoi Water Drainage Company have been pump out the floodwaters at the Yen So Pumping Station.
The Ha Noi Clean Water Company provided clean water to some areas like Kim Lien and Thanh Cong that have lacked pure water for the last few days.
The Northern Food Corporation has asked its affiliates to supply rice and instant noodles at reasonable prices to flood victims in many parts of the capital.
The chairman of the Ha Noi Fatherland Front Committee, Tran Viet Hang, said families would be given at least VND3 million for each member killed in the flooding and VND2 million for houses seriously damaged.
Six task forces set up by the Ha Noi Department of Health yesterday inspected many areas to begin a cleanup, ensure food hygiene and safety, and prevent water-borne diseases.
They provided residents chemicals to decontaminate drinking water and destroy flies and mosquitoes.
The department has also mobilized 10 tons of chlorine to deliver to areas facing a high risk of water-borne diseases.
At Least 50 Killed in Flooding

At least 50 people have been killed and seven remain missing in many northern provinces, the Central Steering Committee for Flood and Storm Prevention and Control said at a meeting yesterday. Four people have been injured.

More than 100,000 houses have been flooded, swept away, or destroyed, and over 250,000 hectares of rice and 25,000 ha of aqua farms seriously damaged.

Addressing the meeting, Deputy Prime Minister Hoang Trung Hai directed the Ministry of Trade and Industry to restore power supply to flood-hit areas and keep an eye on the market to check the rise in the prices of essential goods that have occurred in the past few days.

He also ordered the concerned agencies to ensure the safety of dikes and reservoirs, and speed up relief activities.
Major Rivers Rising Rapidly

Though it has stopped raining, many northern rivers are continuing to rise, the National Hydrometeorology Forecast Center said.

Three of the larger rivers, Da, Thao, and Lo, have risen the fastest.

The Red River could rise to Alarm Level I in Ha Noi and to Alarm Level III in Yen Bai province today; the Lo is likely to exceeded Alarm Level II by 0.5 meters in Tuyen Quang province.