Food prices have shot up 10 percent in flooded areas of Nghe An Province on the upper central coast, the local authorities learned through a survey.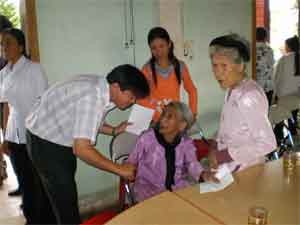 HCMC Youth Association give presents to the residents in flooded areas of Nghe An Province. (Photo SGGP)
After the rains wrought their destruction, the inhabitants were given essential food rations like salt and cooking oil by the authorities as well as private individuals and organizations, but these will soon be used up.
A food shortage in these areas should become obvious in a month from now as the emergency rations are consumed, so even higher prices are on the cards.
The people affected by Viet Nam's latest round of flooding have had a hard time of it since the waters drained away.
Flooding has been particularly unkind to the Mekong Delta province of Dong Thap, where 53 children have drowned in the swollen waters this year, and there could be more to come.
The authorities say they have taken several steps in the most flood-prone places to save youngsters from a watery grave.
Moving away from human life and into the realm of inconvenience, the Southern Hydrometeorological Center says that several streets in Ho Chi Minh City will be repeatedly flooded over the next week or so until the water levels begin to abate in earnest.