The Ministry of Agriculture and Rural Development (MARD) announced during a meeting in Ha Noi on Thursday that it plans to work with relevant agencies to examine and ensure food safety, which it identified as an urgent task.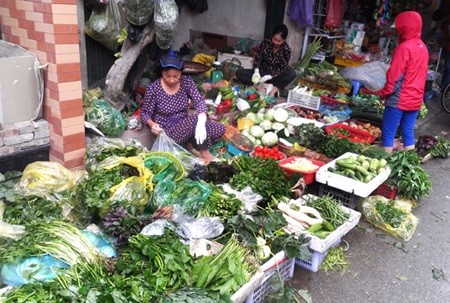 Vegetables are sold at a market in Ha Noi. The Ministry of Agriculture and Rural Development plans to strengthen inspections of food safety and hygiene. — VNS Photo Doan Tung
Minister Cao Duc Phat said it was necessary to inform farmers of the health impacts associated with using banned substances and antibiotics, as well as the damage caused to farmers and enterprises, he said.
He urged localities to form safe food supply chains in big cities like Ha Noi and HCM City.
To tackle the issue of food safety violations, Phat said inspectors should strictly handle any breaches of safety standards. A list of production units that use banned substances will be publicised, he said, adding that emphasis will be placed on the safety of meat and vegetable products.
Deputy Minister of Agriculture and Rural Development Vu Van Tam proposed that agriculture and rural development departments in provinces and cities should set up designated places to sell safe food, especially with Tet (Lunar New Year) approaching.
Local consumers should be provided with information about places where they can buy safe food, he said.
Tam also said localities should organise trade fairs for safe food by linking production and supply chains between now and the Lunar New Year.
Food safety inspections in the first nine months of the year showed that the percentage of pesticide residue found in vegetables and fruits was 10.3 per cent, compared to between 6 and 8 per cent annually. Of the meat samples, 7.6 per cent surpassed allowable levels in terms of antibiotic and substance residues, according to the MARD.
Tran Trong Binh, deputy head of the Environment Police Department under the Ministry of Public Security, said poor co-ordination among law enforcement agencies contributes to rampant use of forbidden substances in animal husbandry, as well as pesticide residue in vegetables and fruits.
He also said public information campaigns to promote safe products for consumption had not been effective.
Dinh Thi Phuong Khanh, deputy director of Long An Province's Agriculture and Rural Development Department, said criminal penalties should be imposed on violators who use banned substances in livestock.