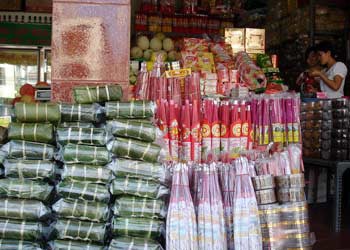 Food for Tet is displayed at a shop in Hanoi
The Vietnam Food Administration said December 24 it would set up 10 inspection groups to monitor products consumed during Tet, like alcoholic drinks, beers, beverages, and meat products.
The groups, to be on duty from January 1 until Tet on February 14, would focus on wholesale markets and supermarkets in 30 cities and provinces, Nguyen Thanh Phong, the department's deputy head, said.
Provinces would form their own inspection groups to monitor food safety during the country's biggest festival.
Meanwhile, on December 24 inspectors from the Ho Chi Minh Department of Health discovered Binh Tan District-based Chinese sausage maker Sanpan using additives with suspicious origins and quality.
They found two bags of food additives at the company carrying the Sausage Flavoring brand name without packaging or expiry dates and 15 other bags without labels.
They also found seven Lion cans of food additives without a Vietnamese label – as required for imported products -- and four out-of-date Phosphates Mix cans imported from Thailand by Vinh Giai Co.
The inspectors suspended Sanpan's operations and took samples for testing.