The Government will ensure food security by focusing on increasing national reserves over exporting, Prime Minister Nguyen Tan Dung said in a teleconference on April 27.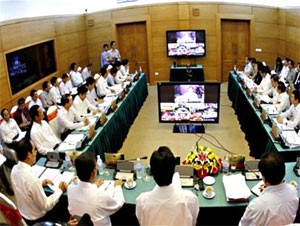 PM Nguyen Tan Dung chairs the first national teleconference on April 27
The four-hour teleconference was held for the first time to discuss the socio-economic situation of the first four months of the year with leaders of ministries, sectors and eight cities and provinces representing three regions of the country.
Mr. Dung said the country was not short of rice because the recent winter-spring crop supplied more than 9 million tons.
 
The Prime Minister said the recent increase in the price of rice in Ho Chi Minh City due to commercial and public speculation.
 
He wanted the city to strengthen information dissemination, and noted that speculation and unreasonable price increases would be strictly punished.
 
At the meeting, the chairmen of people's committees of cities and provinces including Ha Noi, HCMC, Khanh Hoa and Can Tho reported to the Prime Minister the status of recent socio-economic development and existing problems.
 
The Prime Minister asked ministers to reply to proposals from localities in a timely fashion.
 
The PM said in the first four months of this year, Viet Nam maintained high economic growths, with foreign direct investment increasing by 41 percent and export by 27.6 percent over the same period last year.
Inflation rose 11,6 percent in the period but it has been on the downtrend, registering a 2.38 percent rise in January, 3.56 percent in February, 2.99 percent in March and 2.2 percent in April.
However, the PM said, the four-month period saw a high trade deficit of US$29.3 billion, up 71 percent year-on-year. Reducing trade deficit is a major and hard task for ministries, agencies and localities in the time to come, he stressed.
The PM asked leaders from the above-mentioned cities and provinces to take drastic measures to curb inflation, stabilize the macro economy, ensure social welfare and maintain sustainable growth.
Cities and provinces nationwide should speed up their production, key infrastructure works and export, reduce trade deficit and ensure sufficient financial supplies for production, he said.
 
Concluding the online discussion, Mr. Dung stressed that the Government would continue to work with provinces through online teleconferences. Representatives from remote areas could meet with Government leaders to address their concerns and receive instant feedback.
 
This would help reduce the number of national conferences and local leaders' working visits to Ha Noi, saving time and money.
 
Except for Government conferences, Mr. Dung said he would use online teleconferences to work with ministries, sectors and localities on concrete and urgent issues, such as fighting the blue ear pig disease epidemic and smuggling. After the meeting, the Government Office would send reports to relevant agencies and localities.
 
After the meeting, leaders from localities agreed that the teleconference was effective and supported using this method in the future.
Prime Minister's Warning
 
Prime Minister Nguyen Tan Dung sent an urgent message yesterday to people's committees in cities and provinces, and relevant ministries and sectors saying that the country's foodstuff productivity this year should be enough for domestic demand and some export.
 
A report form the Ministry of Agriculture and Rural Development showed that the 2007-08 winter-spring rice crop's output was higher than that of 2006-2007. The volume of rice grown by enterprise was estimates at 1.3 million tons. The State said it would continue to buy rice for national reserves.
 
Mr. Dung asked foodstuff trade companies to continue to buy rice as planned, meeting consumption and export demands, and distributing rice to various regions in the country to avoid any shortage.
 
He prohibited organizations and individuals not involved in the foodstuff trade from buying rice for speculation. He noted that violator would be strictly punished.