Foreign Minister Pham Binh Minh has emphasized the need to boost relations with all other nations and diversify global integration from its current economic focus to all fields.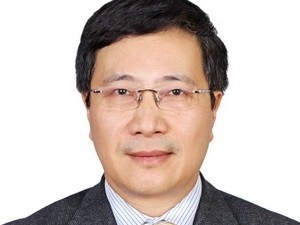 Foreign Minister Pham Binh Minh (Source: VNA)
Minh announced this shift of emphasis following a meeting held by the National Assembly in Hanoi on August 3, where he was promoted to Foreign Minister.
He said the Foreign Ministry will turn strategic partnerships, which Vietnam has established with a number of countries, into concrete action while establishing strategic partnership with other countries.
Vietnam will participate in resolving issues of not only national concern but also of international concern, in an effort to maintain peace for development and increase the nation's international image, Minh said.
Asked about the Foreign Ministry's policy towards the East Sea issue, he made it clear that diplomacy was responsible for contributing to national defense, including the task of firmly safeguarding the national sovereignty. To maintain peace, stability and promote relations with other countries would be the most effective measure to defend the national sovereignty.
The newly appointed Foreign Minister also pledged to promote the national prestige in the international arena, which has constantly increased in the recent past. He cited Vietnam's World Trade Organization (WTO) membership, its success in hosting Asia-Pacific Economic Cooperation Forum Leaders' Meeting and competently fulfilling the role of ASEAN chairmanship and a non-permanent member of the UN Security Council.