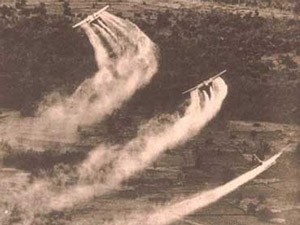 This undated file photo shows US troops spray Agent Orange/dioxin in Vietnam during the Vietnam War.
The Vietnam-Nagasaki Exchange Promotion Council has launched a campaign to raise a fund worth 500,000 JPY (about 100 million VND) to support Vietnamese Agent Orange victims.
The event was implemented within the working visit to Nagasaki by Vu Huy Mung, Vietnamese Consul General in Fukuoka, Japan.
During his stay in Nagasaki, Consul General Mung met with municipal officials and more than 300 representatives of friendship and social organizations in the province to discuss issues regarding cooperation in economy, society, education and culture.
Meanwhile, a famous French surfing athlete Alain Larribe has donated nearly four million VND to Vietnamese AO victims as a small gift on the Christmas Day.
He plans to present all the proceeds in the next Lot competition, which is scheduled to take place in France's hot province in July, 2010, to the Vietnamese AO victims.