Prime Minister Nguyen Tan Dung has approved a proposal by the Bank for Investment and Development of Viet Nam (BIDV) to have the bank and the Vietnam Airlines Corporation directly negotiate and appoint foreign exports to support the upgrading of the Cam Ranh Airport.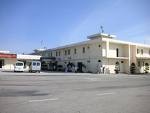 Cam Ranh Airport.
The airport, located near the popular resort town of Nha Trang in Khanh Hoa province, will become an international airport after the upgrade.
Mr. Dung said the foreign experts have to work along with the Department of Defense in drawing up designs for the upgrade.
The investment companies will bear the costs of hiring the foreign experts, the prime minister added.
Under the government plan, Cam Ranh Airport will be upgraded into an international airport after 2010.