Protection of citizens will continue to be one of the important tasks of the Ministry of Foreign Affairs (MoFA) in 2012, said MoFA spokesman Luong Thanh Nghi at the ministry's regular meeting in Hanoi on Jan. 12.
According to Nghi, in 2011 and early 2012, Vietnam has dealt with a number of cases relating to protection of citizens, typically the evacuation of 10,000 citizens from chaotic Libya and earthquake and tsunami damaged Japan, the search for sailors of the sunken Vinalines Queen ship and the seeking for release of Vietnamese fishermen seized abroad.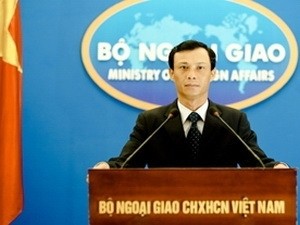 MoFA spokesman Luong Thanh Nghi
In all cases relating to Vietnamese citizens, MoFA has actively coordinated with local ministries and branches as well as promptly instructed Vietnamese representative agencies abroad to coordinate with the authorities of the host countries in dealing with the cases properly, helping ensure safety and protect the legitimate rights and interests of Vietnamese citizens.
It helped bring home nearly 1,094 fishermen on board 113 vessels seized by Southeast Asian countries.
Most recently, MoFA has urgently coordinated with and called for international efforts in searching for Vinalines Queen ship's sailors.
Regarding the case of 23 Vietnamese sailors on the Republic of Korea's Jung Woo 2 ship that suffered a fire in waters southeast of New Zealand , the spokesperson said a ccording to the New Zealand Ministry of Foreign Affairs and Trade and the Rescue Coordination Centre of New Zealand (RCCNZ), three sailors were reported dead in the hold while four others suffered from injury.
The injured will be brought to the Christchurch Hospital in New Zealand for medical care, he said, adding that the remaining sailors are in good health and are expected to be brought ashore at Lyttelton, near Christchurch on January 19.
Nghi said the MoFA has urged the Vietnamese Embassy in New Zealand to continue working with the authorities of the host country on necessary protection and assistance measures for the Vietnamese seamen.
At the same time, the ministry has instructed the Vietnamese Embassy in the RoK to actively work with the ship owner to address the interests of Vietnamese sailors in a satisfactory manner, he said.
About the Vietnam-EU Human Rights Dialogue, Nghi said that with Vietnam 's policy to be ready to conduct dialogues with countries and international organisations on human rights and to realise an agreement between the MoFA and the EU's external relations agency, MoFA organised the Vietnam-EU Human Rights Dialogue in Hanoi on January 12.
At the dialogue, the two sides exchanged views on issues of common concern on human rights, including the freedom of speech, freedom of the press, freedom of religions and beliefs, the rights of ethnic minority groups and the issue of immigrants.
Since 2002, the Vietnam-EU Human Rights Dialogue has been seen as an important forum that aims to boost the exchange of information and strengthen mutual understanding in the fields of human rights policy and achievements between the EU and Vietnam.