As many as 10 foreign news agencies and television companies have been granted permission to come to the Son My village in the Quang Ngai Province to film and report on the ceremony to mark the 40th anniversary of a massacre which occurred in the hamlet of My Lai.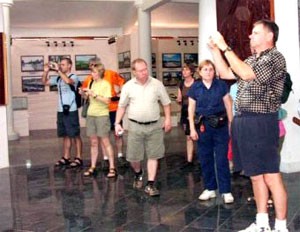 Foreigners visit the Son My Evidence Museum
The announcement was made on Tuesday by Pham Thanh Cong, director of the management board of the Son My Evidence Museum.

Over 200 foreigners have registered to attend the ceremony which will be held on March 16, he said.
Last year, Oscar-winning director Oliver Stone made a survey of the Son My village to start a film involving the massacre.
The My Lai massacre occurred on the morning of March, 16 1968 during the Viet Nam War. It was perpetrated by US soldiers against unarmed Vietnamese civilians.

During the three hours of carnage 504 civilians, mostly women, children, and the elderly of the My Lai Hamlet were killed. At the time of the massacre, there were no signs of draft-age men or weapons in the village, nor was there any resistance.

The My Lai massacre prompted worldwide outrage and diminished support for the Americans both at home and around the world for the war in Viet Nam.
The site of the massacre now has a memorial to the victims and a museum with some of the horrific pictures taken by Haeberle.