A "forest holocaust" has increased at an alarming rate at Hoai An and An Nghia districts in Binh Dinh Province despite an increase in some authorities' management and heavy fines.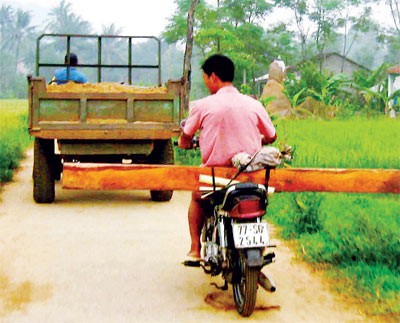 A resident of An Nghia District, Binh Dinh Province, transports a log (Photo: SGGP)
In the first nine months, Hoai An District's Forest Management Board handled 114 cases violating forest protection regulations, up 34 cases over the same period last year, and confiscated 100 cubic meters of timber and transport vehicles.
 
However, an unnamed local man said the volume of timber illegally logged was much more than that.
 
Illegally-logged timber is transported out of forests at around 5-6 pm. Smugglers usually wait at forest entrances to buy timber and are ready to fight with anyone, even forest management staff, who try to obstruct or arrest them.
 
Profits from timber are so high that log smugglers are a law unto themselves and entice local residents to go to forests to cut down trees.
 
However, loggers, who are mostly local residents, do not profit much from deforestation. It is the smugglers who reap large rewards instead.
 
Explaining the uncontrolled and increasing rate of deforestation, Tran Ngoc Ty, deputy head of the Hoai An Forest Management Board, said they do not have necessary equipment to record lumberjacks' deforestation for evidence.
 
The district has 34,700 hectares of forest but the board has only 22 members. It means that one will be in charge of 1,500 hectares while according to the forest management regulation, one official is in charge of only 1,000 hectares, he said.
 
Mr. Ty said some local authorities have also slackened their management, with little close cooperation among locals, forest management boards and police.
 
The board has planned to persuade local residents to protect forests but it seems helpless to prevent them from deforestation as they are poor and in need of money, he said.
 
Most importantly, to prevent deforestation, forest management officials have to be determined to punish smugglers strictly, Mr. Ty added.