Two State-owned road construction companies cleared hundreds of hectares of forests in a national park in the Central Highlands province of Dak Lak while upgrading National Highway 14C, SGGP has found.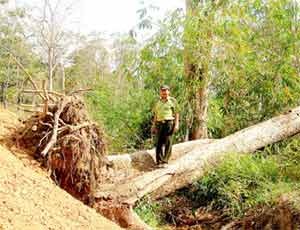 One of the precious trees cut down by road contractors at the Yok Don National Park in Dak Lak Province to upgrade National Highway 14C (Photo: SGGP)
The Rural Construction and Development Joint Stock Company 6 and the Dak Lak Road Construction and Management Company, who began expanding the highway in 2001, chopped down 172.45 hectares of trees in the Yok Don National Park in Buon Don and Ea Sup Districts.
The Vietnam Road Administration's Road Management Board V gave clearance for them to start the work on April 1, 2009.
A day after the work began the park asked the Road Management Board V to withdraw the clearance since using such forest land requires the Prime Minister's approval and an assessment of the environmental impacts.
The park accused the two contractors of cutting down rare, valuable trees and its employees of hunting wild animals in the area.
It ordered them to pull their workers and equipment out of the site, but they refused, citing the clearance they got from the board.
Last November the Ministry of Agriculture and Rural Development petitioned the Prime Minister not to allow use of the park for the project.
Instead of waiting for the Prime Minister's orders, the contractors continued to destroy the forest.
On December 29 the park again ordered the immediate suspension of the work. 
When SGGP correspondents visited the site on January 12, they saw a large number of precious trees lying along the highway though the contractors seemed to have stopped work and pulled out their workers.