A huge forest fire has been raging in Hoang Lien Son National Park in Sa Pa District in the northern province of Lao Cai for the last three days, and all attempts to quell it have so far failed.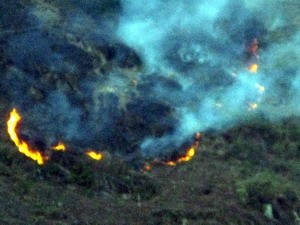 A forest fire in Hoang Lien Son in February 2010 (Photo: VNA)
The wild forest fire started on March 2 and soon spread to Seo My Ty Hamlet of Ta Van Commune, where it was further fueled by a hot low pressure zone from the west and dry conditions in the area, a result of successive cold fronts in the northern region.
The park management board and Sa Pa authorities have mobilised all possible resources including the police, army, civil defence forces and local residents, to help stamp out the fire. However, persistent hot and dry southwesterly winds are continuing to fuel the fiery inferno, and the rough terrain is also impeding fire-fighting operations.
On March 4, senior leaders from Lao Cai Province dispatched more human resources to the site and have also surveyed the area to look at various options to control the fire.
Authorities have yet to determine the cause of the fire.
In February 2010, another big fire had occurred in Seo My Ty Hamlet, which burnt down thousands of hectares of forest area, and took over ten days to quell.

According to the Forest Management Department under the Ministry of Agriculture and Rural Development, prolonged hot, dry and arid weather has put nine provinces in the country susceptible to the dangers of forest fires. Local authorities have hence been instructed to implement measures to prevent them from occurring, by being far more vigilant.