Tens of forest fires are still continuing to burn in the central region where hundreds of hectares of cultivated forests stand to be destroyed.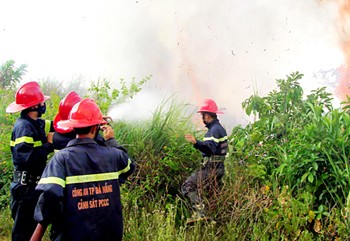 Fire fighters struggle with flames in Da Nang City (Photo: SGGP)
The worst affected is the area that falls between the provinces of Thua Thien-Hue and Phu Yen. The most devastating fire took place in Phu Hoa District of Phu Yen province where over 100 hectares of valuable forest wood was destroyed in mid July.
Over 400 people worked for three consecutive days to stamp out the forest flames. Da Nang City too was left to cope with seven fires in the first week of July alone.
The Department of Forest Management in Da Nang City has raised the forest fire alarm to level 5, a dangerously high level.
Over 1,000 people along with firefighters, army personnel and police officials were deployed to extinguish just one single fire occurring in the south side of Hai Van mountain pass. It was ultimately brought under control after 20 hours.
Since the beginning of the year, Binh Dinh Province has recorded 11 fires causing havoc to 32 hectares of woods. Several forests in Phu Cat, An Nhan, Van Canh, Tuy Phuoc and Tay Son Districts are now under alarm level 4.
Thua Thien-Hue, one of the localities with the fewest forest fires, has also suffered five fires this year, ruining five hectares of cultivated woods. One of these was in the northern Hai Van mountain pass which later spread to its south side.
Most of the forest fires have been recklessly caused by careless humans who burn fields after harvests or are searching for bee honey. Some stray cases lay the blame on careless tourists.
Though local authorities put much effort into fighting forest fires, they are continually handicapped by the mountainous terrain and lack of fire-fighting facilities.
Tran Van Luong, head of the Department of Forest Management in Da Nang City said that it was difficult to access the flames. As a result, fire extinguishing equipment proves ineffective. Besides, Da Nang has only 26 machines, insufficient to fight 55,000 hectares of forest fires. Other central provinces too face a similar situation. Besides, lack of funds seriously impairs all efforts to cope with forest fires.