Over the last five years, forest area has shrunk by 158,000 hectares in southeast and central highland regions accounting for 32 percent of total forest land loss in the country, announced the Ministry of Agriculture and Rural Development.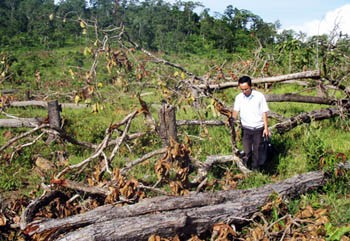 A destroyed forest area in the Central Highlands
The ministry revealed this at a conference hosted recently in Buon Ma Thuot City of Dak Lak Province to discuss the problems of forest management and protection in the southeast and central highland regions.
Forest land has had to give way to rubber plantations from 2006-2010. Provinces in these regions have been permitted to convert 95,500 hectares of forest land into rubber plantations. This led to forest area being reduced by over 60 percent.
Besides, illegal logging has destroyed 9,700 hectares of forests, an average of 2,000 hectares are being chopped down annually.
Ha Cong Tan, Deputy Head of the Vietnam Administration of Forestry said that even if local authorities see forests being degraded they ignore action and leave responsibility to forest management officials or forest owners, most of whom are not adequately equipped to protect forests.
According to Nguyen Duy Hai,Deputy Chairman of the People's Committee in Kon Tum Province, deforestation is not efficiently addressed in Vietnam.
For instance, cutting of over five cubic meters of Trac wood is a criminal offence, and less than that gets away with a small penalty. So lumberjacks chop down less than five cubic meters and willing pay off the penalty.
Mr. Hai proposed to inflict criminal charges if the value of the wood exceeded VND50 million. Although the People's Supreme Court welcomed this suggestion, the Ministry of Agriculture and Rural Development has yet to approve.
Nguyen Duc Luyen, Deputy Chairman of the People's Committee of Dak Nong Province proposed to review the forest area to assess area lost. He also said that forestry companies should be privatized as the government lacked funds to protect the forests.
Cao Duc Phat, Minister of Agriculture and Rural Development asked local authorities to investigate the forest area still left, task companies to protect and handle deforestation cases and proposed to the Government to revise regulations on licensing sawmills.
Minister Phat instructed local authorities to remove all sawmills located near forests.