Party General Secretary Nguyen Phu Trong presented the "75 years of Party membership" insignia to former General Secretary of the Central Committee of the Communist Party of Vietnam Do Muoi at a ceremony in Hanoi on January 25.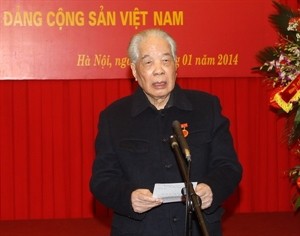 Former Party General Secretary Do Muoi speaks at the ceremony (Source: VNA)
On behalf of the Party and State, General Secretary Trong acknowledged the significant contributions made by the veteran Party member to the revolutionary cause of the Party and the nation. He said that comrade Do Muoi has always shown absolute loyalty to the Party, the Fatherland and the people while successfully accomplishing all tasks assigned to him by the Party and the State.
During the years serving as Party General Secretary, comrade Do Muoi, together with the Party Central Committee, Politburo and Secretariat, directed the party, people and armed forces to implement the policy on renovation, national construction and defence and well completed assignments entrusted by the Party, State and people, Trong said.
Speaking at the ceremony, the former General Secretary said he is honoured to receive the award. He vowed to stay faithful to the Party and do his best to protect the Party.
"Throughout 75 years standing in the Party's ranks, I have the honour to contribute my small part to the cause of the Party and the nation. Now I am almost 100 years old and I can say that I have stayed true to the oath I made when joining the Party 75 years ago," Muoi said