One of Japan's highest honors, the Imperial Order of the Rising Sun, was bestowed on Viet Nam's former Deputy Prime Minister, Vu Khoan, for his efforts to strengthen the cooperative relations between Viet Nam and Japan.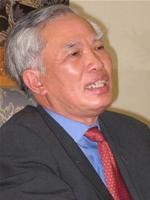 Former Deputy PM Vu Khoan

Mr. Vu Khoan, the second Vietnamese leader to be presented with this honor, accepted the award Tuesday from Japanese Emperor Akihito in a ceremony at the Imperial Palace in Japan and a certificate from Prime Minister Shinzo Abe.

The former PM was given the honor for his outstanding efforts to boost economic ties between the two countries in 2006. He was also the leader of the Vietnamese delegation attending bilateral talks to resume Japan's Official Development Assistance (ODA) for Viet Nam in 1992.

In late 2006, Vietnamese former PM Phan Van Khai was given the Order for his great contributions to the development of Viet Nam-Japan relations.