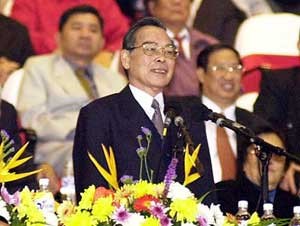 Former Prime Minister Phan Van Khai
The Japanese State on Nov. 3 decided to confer "Grand Cordon of the Order of the Rising Sun", the highest order that Japan confers on former foreign Prime Ministers, on former Vietnamese Prime Minister Phan Van Khai.
According to the Japanese embassy in Viet Nam, Japan's decision to confer this order on former PM Phan Van Khai is to recognise his contribution to strengthening the relationship between Viet Nam and Japan in various fields.
During the past 10 years, in his position as the Prime Minister, Mr. Khai paid attention to the Japan-Viet Nam relationship, considering Japan as a "strategic partnership based on long-term stability and reliability".
He also actively helped to increase the exchange visits between the governments' leaders of the two countries and signed the Japan-Viet Nam Agreement for Liberalisation, Promotion and Protection of Investment, and implemented the Japan-Viet Nam Joint Initiative.
The Japanese Emperor will bestow the order on former PM Khai in a ceremony to be held at the Japanese Imperial Palace on Nov. 7.