National Assembly Chairman Nguyen Phu Trong has praised Quang Ngai province for its economic achievements in the past eight months despite the national high inflation.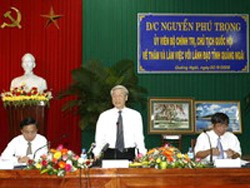 National Assembly Chairman Nguyen Phu Trong speaks at the meeting yesterday with Quang Ngai Province's authorities
During his visit to the central province on September 2, the legislative chief was reported by provincial leaders that the province's industrial growth reached 13.7 percent year on year to almost VND2.2 trillion so far this year.
As a result, budget revenues were estimated at VND940 billion, meeting 62 percent of the yearly target.
Its Dung Quat economic zone has so far licensed 165 investment projects with a combined capital of some VND11 billion. Of them, 50 projects are expected to become operational by December, providing jobs for 11,500 work-hands.
The success, especially in maintaining people's living conditions stable, made sense in the wake of a raging inflation that hits the nation and the world as a whole, praised the top law maker.
He also commended the province for its achievements in poverty reduction with the poverty rate down to 22.73 percent, just less than 1 percent left in the remaining period of the year to meet the yearly target of 22 percent.
For the immediate future, the legislative leader advised the provincial administration to focus on poverty reduction, speed up afforestation, improve the local education level and take care of human resource development.
Mr. Trong also carefully listened to proposals raised by provincial authorities for the province's economic growth. They included a plan to expand the Dung Quat economic zone by more than four times to 50,000 ha southward in connection with the My Han deep-water sea port for a convenient transportation.
The local administration also looked for the central Government's support for a road construction project that runs around the Dung Quat-Sa Huynh coastline.