Comrade Vo Chi Cong (born Vo Toan), former President of the State Council, former Chairman of the National Defence Council passed away yesterday Sept, 8th at the age of 99.
In a special joint communique, the Communist Party of Viet Nam's Central Committee, the National Assembly, the State President, the Government and the Viet Nam Fatherland Front Central Committee said that Comrade Vo Chi Cong, born in Tam Xuan Commune, Tam Ky District, Quang Nam-Da Nang Province (now Quang Nam Province) died at Thong Nhat Hospital in HCM City after a long time severe illness.
Comrade Vo Chi Cong, who also held the post of a former Politburo member, former Party Central Committee Secretary, former advisor to the Party Central Committee and a deputy to the National Assembly's 6th, 7th and 8th tenures, has made great contributions to the revolutionary cause of the Party and nation.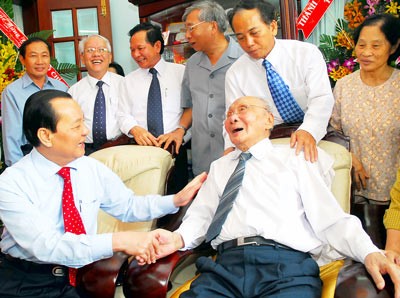 HCM city Party Chief Le Thanh Hai (L) and other city leaders visit Comrade Vo Chi Cong (R) in Aug 2007.
He was conferred with the Gold Star Order by the Party and State, the 70-year Party badge and many noble orders and medals.
The communique said that Comrade Vo Chi Cong's death was a loss to the Party, State and people, and he would be honored with a State funeral.
Tributes to the late leader will take place on September 10 and 11 at the Thong Nhat Hall in HCM City and a solemn memorial service will be held in the early morning of September 12 at the hall.
He will be buried at the city's cemetery later that afternoon.
Viet Nam Television (VTV) and Voice of Viet Nam (VOV) will broadcast the memorial and burial ceremonies live.
At the same time, ceremonies to commemorate the late President of the State Council Vo Chi Cong will also be held at the International Convention Centre in Ha Noi and at the office of the Party Committee of Quang Nam Province