Chairman of the Alliance for Safe Children (TASC) Pete Peterson has expressed his willing to work with the Viet Nam Red Cross Society in humanitarian activities in an effort to help reduce accidents among Vietnamese children.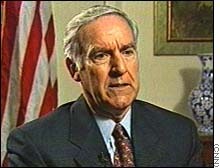 Former US Ambassador to Viet Nam Pete Peterson
Mr. Peterson, who is a former US Ambassador to Viet Nam, made the remarks during a recent working visit to Viet Nam.
He spoke highly of the Viet Nam Red Cross Society's activities, particularly in preventing and combating HIV/AIDS and avian influenza, as well as in supporting victims of tsunami and earthquake disasters in south and southeast Asia and victims of the Katrina hurricane in the US.
When he was US Ambassador to Viet Nam, Mr.Peterson had made efforts to boost the US-Viet Nam ties and helped carry out humanitarian activities for Vietnamese people, especially children. In his present role as the TASC chairman, he pledged to continue efforts to assist Vietnamese children and people.
The TASC is now operating in the central Da Nang city and Quang Tri province to prevent children's accidents and will expand its activities to other Viet Nam's provinces.