Japan's highest honor, the "Order of the Rising Sun," was bestowed upon Viet Nam's former Prime Minister, Phan Van Khai, by Emperor Aikihito along with a commemorative certificate from PM Shinzo Abe at the Imperial Palace in Tokyo yesterday.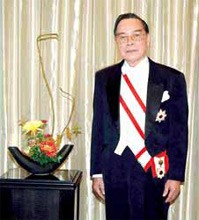 Former PM Phan Van Khai at the awards ceremony
After the awards ceremony, former PM Khai was received by the Japanese Emperor and posed for photographs with him.

This was the first time in Japanese history the Emperor himself has presented the order to a former foreign official at the imperial palace.

Traditionally, the granting of the "Order of the Rising Sun" was usually done by Japanese ambassadors in foreign countries.
The emblem on the "Order of the Rising Sun" represents sunbeams at dawn.

Established in 1875 by Emperor Meiji of Japan, the decoration is presented to individuals who have made great contributions to boosting relations and cooperation with Japan.