Taiwanese Formosa steel company has transferred US$250 million out of $500 million the company pledged in compensation for sea environment pollution in the north central region, said Minister of Natural Resources and Environment Tran Hong Ha on July 29.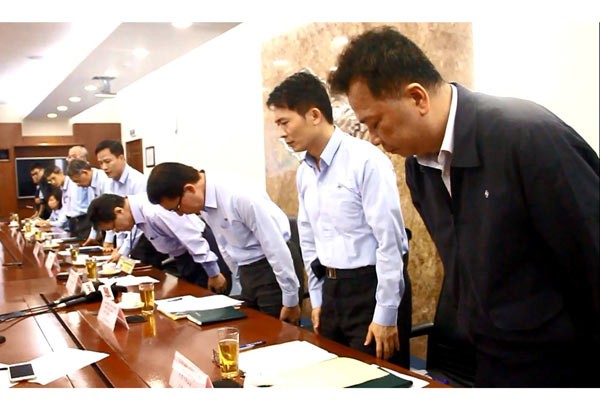 Formosa leaders take responsibility for the mass fish death in the central region of Vietnam (Photo: SGGP)
At a National Assembly session, he said that the Government has tasked the Ministry of Agriculture and Rural Development to start indemnifying citizens in four north central provinces for their loss in the extensive dead fish caused by Formosa.
The Natural Resources and Environment Ministry is now doing procedures to penalize 53 administrative violations by the Taiwanese firm.
The two ministries and other relevant ministries have built a comprehensive plan to repair consequences of the fish death and recover marine ecosystem.
The plan will be sent to a science council for assessment by mid August. It covers many aspects from technology transfer to waste and exhaust fume treatment improvement.
Implementing the Government's instruction, the Ministry of Natural Resources and Environment has started building a project on sea environment surveillance and observation from Thanh Hoa province to Da Nang city.
The Formosa case shows a requirement to review and adjust the system of environmental standards, the process and method to estimate and conduct environmental impact and inspection of investment projects, Mr. Ha said.