The 2011 Mekong Delta Economic Cooperation forum finished in Ca Mau Province Friday after three days' discussions of ways to assist the region's socio-economic development and to bolster ties with Ho Chi Minh City, Vietnam's southern economic hub.
The forum's joint declaration underlined four major tasks for next year.
The first is to build investment promotion policies for government approval.
Planning for regional tourism development is the second major task, the declaration says.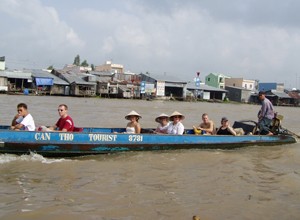 (File) Foreign tourists visit the Mekong city of Can Tho (Photo: Tran Nga)
The third is to establish a Mekong Delta region information center in Ho Chi Minh City.
Working out an action program to cope with climate change and rising sea level in order to reduce adverse impacts on the low-income people is the fourth.
In the forum, the delegates agreed that more efforts be made to further promote trade, investment and international economic integration.

The forum highlighted the importance to create regional linkages, especially between HCM City and the 13 Mekong Delta provinces.
Regional cooperation includes all fields, such as transportation, trade, tourism, investment, agriculture, fisheries and forestry, according to the secretariat of the forum.

The Mekong delta contributes over half of Vietnam's rice output, 90 per cent of rice export, 65 per cent of fisheries production and 70 per cent of fruit, according to the secretariat.

Ca Mau Province leads the country in fisheries exports with an annual export turnover of over US$800 million. It reports food production of more than 450,000 tons of different kinds annually, according to the provincial People's Committee.