A severe landslide at midnight of Sunday suddenly struck the Hang Vinh Commune of Nam Can District in the southernmost province of Ca Mau, pulling 3 houses into the river and causing the deaths of 4 children.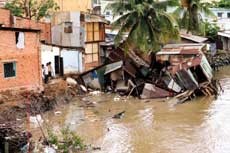 Landslide struck Thanh Da of HCMC
Because the sudden incident occurred at night, the residents didn't have time to move to safety.

Mrs. Nguyen Ngoc Mai with her daughter and her four nieces and nephews were swept away. Unfortunately, only Mrs. Mai and her twelve-year-old nephew, Nguyen Ngoc Thanh, escaped death, but the other four children were lost in the water.

The property damage from the incident is estimated at over VND 200 million (approximately US$12,500).

The local authorities immediately came to the scene to help the affected families to overcome their difficulties.

This incident proved that the landslides along the river banks are still a danger and they can cause severe damage to the life and property of local residents if authorities don't have preventive solutions.

Meanwhile the landslide in Thanh Da peninsula of HCMC has made many people homeless. In order to help residents stabilize their life, yesterday, Mr. Nguyen Quoc Hung, the Chairman of the People's Committee of Binh Thanh District, signed a statement to provide the 20 flats of Nguyen Van Luong Apartment Block in Go Vap District to the families that lost their houses in the landslide on Tam Vu Street.