After investigating the house in the southern province of Ca Mau catching fire killed six people on last Sunday, police from the Ministry of Public Security said that four factors including electricity fault, two motorcycles, two ashtrays and a bundle of incense to keep mosquito away could be causes of the fire.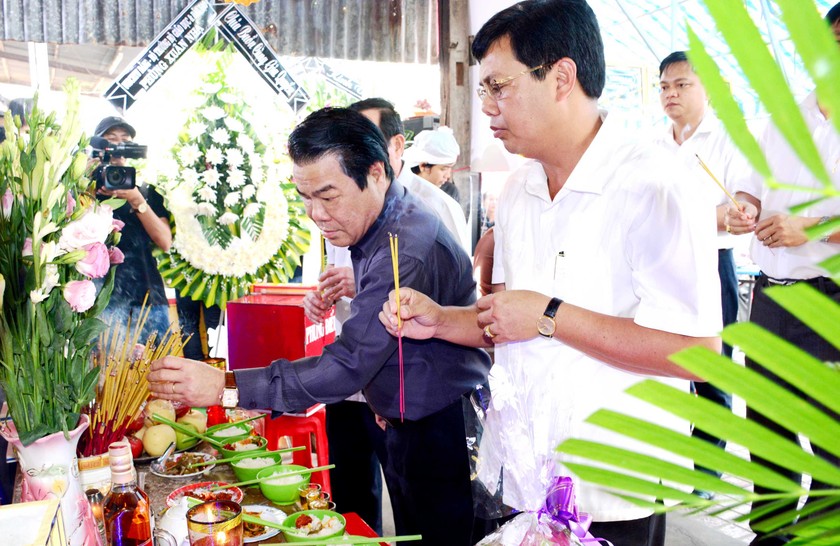 Duong Thanh Binh ( dark shirt) and Nguyen Tien Hai, Ca Mau's leaders burn incense at teh funeral ceremony (Photo: SGGP)
Deputy Head of Ca Mau Police Station Colonel Truong Ngoc Danh said in next ten days, official conclusion of the cause for the fire will be announced.

Secretary of Party Committee in Ca Mau Province Duong Thanh Binh yesterday led a delegation to burn incense and consoled relatives of victims of the fire. He also asked related agencies, local governments and inhabitants to raise awareness of fire fighting and prevention.
At the funeral, many teachers, friends and old students of teacher Tran Quang Tien, one of victims of the fire, offered condolences to relatives.
Local government also presented cash and place to bury victims.

As Sai gon Giai Phong newspaper released, the fire engulfed the house of Tran Quang Tien, 59, and his wife Tran Kim Anh, 59 last Sunday. Tien and Anh family's 6 members were also killed by fire including Tran Kim Hang, 28, Tran Quang Toan, 22, and their two grandkids Tran Thanh Vi, 8, and Quach Gia Hy, 4.

Only 70 year old Nguyen Thi Le, Anh's older sister, survived.

Related article:
Fire kills six in Ca Mau City