Four kidnapped Chinese children were rescued on May 9 by the Police Bureau of Criminal Investigation on Social Order (coded C14B), under the Ministry of Public Security, Thua Thien – Hue Province's Public Security and Ho Chi Minh City (HCMC)'s Public Security. Also, police arrested two people in relation to the foreign children kidnapping ring.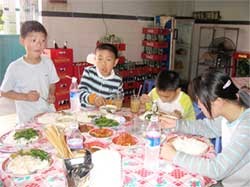 Four Chinese children enjoy lunch at the Public Security Ministry's office in HCMC after being rescued.
Informed by a taxi driver about four foreign children in his taxi going through Thua Thien – Hue Province on the evening of May 7, Thua Thien – Hue Provincial Police promptly reported it to C14B.
After analyzing the details and determined this might be a kidnapping of foreign children, and trafficking them to a third country, using Viet Nam as a transit point, the leader of C14B called an urgent meeting to open a criminal investigation.

The taxi came to a rendezvous at a gas station located near An Suong Intersection, District 12, HCMC in the morning of May 9 to deliver the children to another taxi driver appointed by the kidnappers. The police were keeping a close watch on the taxi and soon it was heading for a house in Nguyen Son Street, Phu Tho Hoa Ward. It was here that the police took action and caught Duong Thi Thu red-handed hiding four children on the first floor of the house.

On the same day, police of C14 arrested Phuong at Hai Duong who had allegedly hired the taxi to take the children to HCMC.

The taxi driver reportedly revealed another man named Nguyen Van Tien (born 1970, HCMC) who had previously hired him three times to deliver 11 foreign children to Moc Bai border gate in Tay Ninh Province.

It would appear to the police investigators that Tien is an important link of the foreign children trafficking ring which uses Viet Nam as a transit. An order to have Tien arrested and his premises searched was issued. Upon his arrest, Tien confessed to another five successful transfers of 19 kidnapped children at the age of 5-12 from HCMC to the border gate in Tay Ninh Province.

Another six people were detained by C14B on May 9 evening in relation to the attempted kidnapping.

Four children are Lin Yao Yao, 14, her brother Lin Chen Yao, 12, cousin Lin Shen Kun, and neighbor Wu Ding Yang, 11. Lin Yao Yao said they had gone out with their aunt five days earlier, afterwards they had no ideas where they were taken to.

Lin's parents are living in France while she and her brother are living with their grandparents in Qiong Zhou Province, China.