Four workers were killed in a methane gas explosion inside a coal mine in Cam Pha District in the northern province of Quang Ninh on July 2.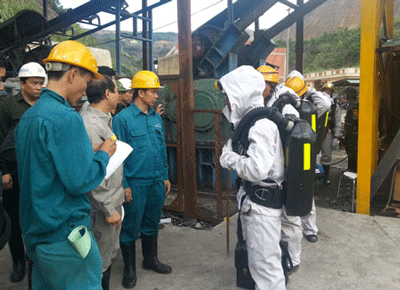 Rescue workers at the scene of the explosion (Photo: Quang Ninh Newspaper)
The four workers named Tran Van Trinh, 25, from the northern province of Thai Binh; Nguyen The Anh, 23, from the northern province of Vinh Phuc; Le Kim Long, 27, and Hoang Van Trong, 25, both from the northern province of Thanh Hoa died in the explosion in the coal mine.
All the four victims were electricians employed by the 86 Limited Liability Company, of the Northeast Coal Corporation, which was operating the mine.
On July 2, the four workers were installing a rack and checking the electrical system at a depth of 150 meters inside the coal mine when the explosion occurred.
Quang Ninh Province authorities have compensated the families of each of the victims with VND6 million (US$288) as initial support; the Cam Pha City authorities provided each victims family with VND3 million; and the mine company provided each family with VND30 million.
The relatives of the four dead workers have already received the bodies of the victims and taken them home for burial.
The cause of the explosion is under investigation.