Four provinces including Tra Vinh , Vinh Long in the Mekong Delta, the central province of Ninh Thuan and the Central Highlands province of Kontum yesterday announced that the provinces have suffered serious drought and salinity, warning at level 1 of natural disaster.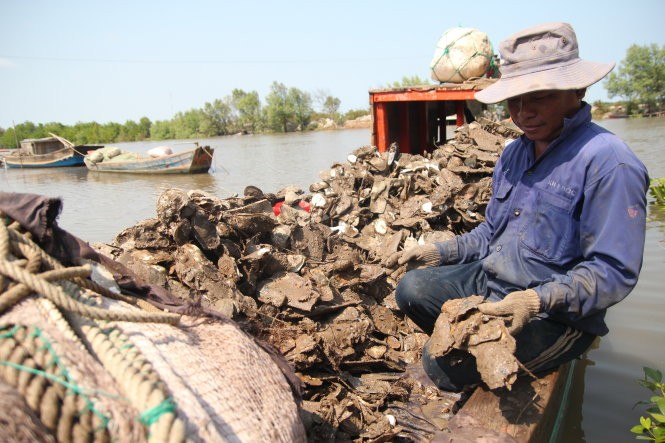 Oyster death was due to serious saltine water.
Coping with the bad weather situation, the Tra Vinh People's Committee and related agencies adopted plans as well as timely measures for preventing saltwater influx, protecting agricultural land and aquaculture to ensure enough water resources for the residents' life and farm.
 
Deputy Chairman of the Vinh Long People's Committee Tran Hoang Tuu said that the province decided to issue warning announcement of natural disaster, and necessary measures to support drought-hit residents.
 
Accordingly, the government decided to support VND 30- 50 billion for Mekong Delta's provinces which were affected by drought and saltwater influx.
 
Meanwhile thousands of hectares of  oyster farms in Ben Tre province were destroyed completely due to saltwater influx, water pollution, daytime hot weather and low temperature in the previous days.
 
At present, local authorities and functional agencies not yet confirm reasons; however, local farmers confirmed oyster death was due to serious saltine water.
 
Mr. Nguyen Van Bien, an official in charge of economics of Thua Duc commune said that there are 66 hectares of oyster farms died completely, an estimated of VND 47 billion.
 
At Cong Be estuary where live oysters feed, salinity level was measured at 35- 37 ‰, increased 10‰ compared to last year.
 
Local authorities actively adopted necessary measures to reduce losses resulting from natural disasters.