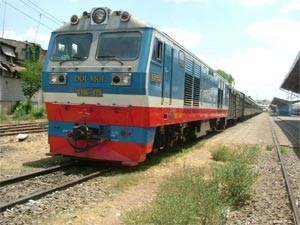 At a train station in Viet Nam (Photo: Hoang Uy)
One hundred sixty million U.S. dollars will be allocated for upgrading the 100-year-old railway network from Ha Noi to Lao Cai.
The Ha Noi-Lao Cai railway connects the mountainous North-western border province with the Northern Red River midlands and delta.
The investment capital includes the French government's donation of US$80 million in aid, while a loan of US$60 million has been received from the Asian Development Bank, and the remaining US$20 million will be issued by the Vietnamese government.
As part of the renovation, 73 key bridges, train stations and railroads will be upgraded and improved from 2008 to 2011.