Vietnamese astrophysicist Trinh Xuan Thuan was granted the International Literary 2012 Award by The French Academy on June 6, for his efforts to popularise science.
This is the first such honour for a Vietnamese and the second for an Asian scientist.
Previously, The French Academy had announced that an overseas Vietnamese,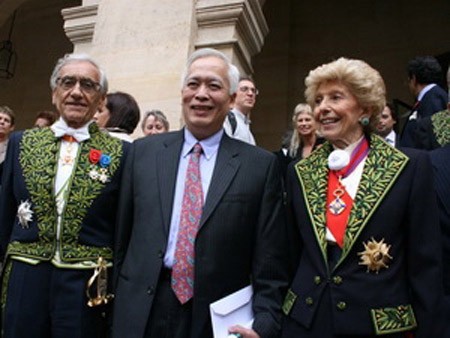 Prof Trinh Xuan Thuan ( in the middle) at the granting ceremony (Photo: SGGP)
was the winner of the 'Cino Del Duca World Prize 2012', a major international literary award in France. The award honoured Prof Thuan for his great efforts to disseminate scientific knowledge for mankind.
The Prix Mondial Cino Del Duca Award includes a cash prize of Euro 300,000 (around US$390,000). It will be officially given on June 6 at The French Academy, officially known as Institute de France, a French society that manages around 1,000 foundations, as well as museums, castles, and grants many annual awards and subsidies based on the recommendation of its five academies.
'Cino Del Duca' is an International Literary Award named after an Italian-born businessman, film producer and philanthropist who moved to France in 1923 and later made a fortune in the publishing business. The Award is designed to recognise and reward an author whose work constitutes a message for modern humanity.
According to the Institute, France's most prestigious scientific organization, Prof Thuan, a humanistic scientist of insight not only made contributions in his research works but has also authored a large number of books, spreading scientific knowledge to the wider public, with the precise view of a humane scientist who always believes in the human position in the universe.
The French Academy stressed that besides his own research, since 1988 the Vietnamese professor has been writing many books to bring scientific knowledge to the public. His poetic and philosophical works of science are famous around the world.
His writings include "The Birth of the Universe" in 1993, "The Secret Melody" (La Melodie Secrete) in 1994, "Chaos and Harmony" in 2000. "The Quantum and the Lotus" (Le Cosmos et le Lotus) in 2001 which he co-authored with French Buddhist monk and philosopher Matthieu Ricard was also helped him to gain Louis Pauwels 2012 Award.
Born in Hanoi in 1948, the professor, who teaches astronomy at the University of Virginia, was a founding member of the International Society for Science and Religion and the recipient of the UNESCO Kalinga Prize in 2009 for his work in popularising science.
Talking about the award, he stressed that it encouraged him to continue his cause of disseminating scientific knowledge.
Prof Thuan thinks that in a world increasingly dependent on science and technology, everybody needs to be equipped with basic knowledge to cogitate on the future of the Earth, a wonderful green planet for all of us.