More than 360 delegates from 166 cities in 46 French-speaking countries attended the opening ceremony for the 27th International Association of Mayors of French-speaking Countries conference in Hue on Wednesday.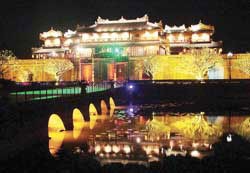 The Hue imperial city
Addressing the delegates who had descended in droves on the central coast city, Mr. Pierre Schapira, deputy mayor of Paris and a member of the European Parliament, stressed that the local authorities played an important role in his association's development.
This was achieved through cooperation with and between member countries and the French Development Agency, the French Foreign Ministry, the Canadian International Development Agency, and the Japan International Cooperation Agency, Mr. Schapira said.
The theme for this year's edition of the annual gathering is "Cities, Heritages and Local Development".
The conclusions drawn from the conference on heritage protection will be the premises for UNESCO to support the member cities in restoring and protecting their historical streets and heritage.
At least one deal has already been struck. Edmond Herve, the mayor of Rennes, and Nguyen Van Cao, chairman of the Hue People's Committee, signed a memorandum of understanding on cooperation in tourism, festival organizing, support for children affected by Agent Orange, and educational and training programs for young people of the two cities.
Established in 1979 at the urging of Jacques Chirac, who was mayor of Paris at the time, the Association Internationale des Maires Francophonies, to give its French name, gathers in a different member city each year. The first AIMF conference in Viet Nam concludes on Friday.