Some 400 beneficiaries of social welfare in Ngoc Hien District in the southern province of Ca Mau received free medical examinations and medicine on Wednesday.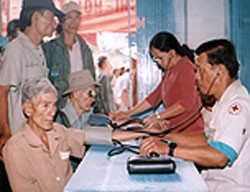 Free medical examinations are provided to poor people
The charity mission was carried out jointly by the Thien Nhan Poor Patient Sponsorship Association in Ho Chi Minh City and the local hospital, in commemoration of the 60th anniversary of Dead and Wounded Soldier Day (July 27).
Beneficiary families receive social welfare because they have close relatives who fought in the war.
Some 200 gifts and 50 scholarships were given to children from such families.
The total value of the charity mission was approximately VND50 million, all of which was collected from charitable donations.