A year ago, Quách Tĩnh was released from prison with only the clothes on his back.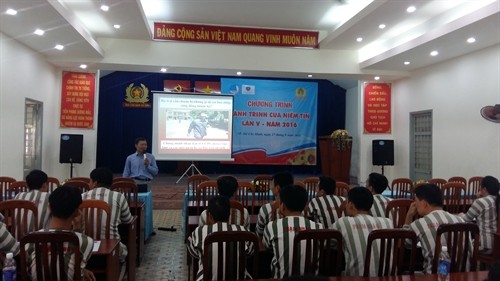 Twenty-one inmates at Chí Hòa Prison, who will be released in early September, attend a legal consultation session. — VNS Photo Thu Hằng
He wanted to start over, but he did not know how he could get his life back on track.
Without educational certificates and skills, he was desperate to find a job.
After being unemployed for six months, he managed to open a small motorbike wash shop with a loan taken out from a programme that helps inmates re-enter society.
Now, as a peer educator, he is confident about sharing his story with local teenagers to help them lead an honest living.
Lê Đăng Gia of HCM City's District 4, who once was in jail, also received a loan to open a coffee shop after re-entering society from a rehabilitation centre in 2011.
Gia's coffee shop is located near the Community Consulting Centre in District 4's Ward 8.
"It helps me raise my family as well as support the rehabilitation of drug addicts," he said.
Over the last few years, he has given part of his income to help addicts register for voluntary rehabilitation.
"Everyone is likely to yield to temptation at some time or another. The most important thing is that you need a strong will and determination to start over," he said.
Gia and Tĩnh are only two of the thousands of young people who have received job and financial assistance from the re-entry programme, called "Hành trình của niềm tin" (The Journey of Faith) over the last five years.
Initiated by the Việt Nam Youth Union, the programme provides not only financial and employment support but also vocational training as well as legal consultation to young inmates and addicts.
As part of the programme, the HCM City University of Law's Legal Consulting and Training Centre, for the last five years, has organised dozens of legal consultation sessions for inmates about to leave jail.
The sessions are about the Residence Law, Law on Citizen Identification, procedures for removing previous criminal convictions, marriage and family law, and civil sentence enforcement, according to Dương Hoán, deputy director of the centre.
Legal knowledge is presented in a simple manner and comfortable setting. 
"The knowledge is crucial for the rehabilitation process. Once released, the very first thing you need is somewhere to live and to work," he told inmates at Chí Hòa Prison during a consultation session held last week.
Twenty-one inmates who will be released in early September attended the session, which distributed names of people for them to contact for free employment and legal consulting.
Ten young volunteers organised quizzes and music performances to create a warm and friendly atmosphere during the sessions.
Nguyễn Thị Minh Phương, a student at the HCM City University of Law, said that she burst into tears when she read the writing of some of the inmates.
They had all expressed their dreams: "I wish one day I can visit Dad's grave." "Dear darling, please forgive me and I will return home soon." "My son, wait for Dad."
"Inmates are in dire need of forgiveness, sympathy, support and encouragement from their family and the community," said Phương, who has participated in the programme for two years. "I think their dreams will come true if they are determined to start over."
Phạm Thị Thanh Hằng, one of the inmates, said the legal information, particularly about the marriage and family law, had helped her understand her rights.
"I often feel confused about my situation. After the consultation, I felt more confident about reintegrating into society," said Hằng, who had worked as a prostitute.
"Once released, ex-inmates face huge challenges on the outside such as unemployment, discrimination and abandonment by relatives and partners," Hoán, the lawyer, said. "In the very first days after getting out of prison, they have a mixture of anxiety and a guilt complex."
"Many fail to start over and end up back behind bars or relapse into addiction not long after re-entering society," he said.
In addition to legal information, they are given psychological consultations.
Every year, the Việt Nam Youth Union in co-ordination with the university and the HCM City Public Security organises legal consultation courses at five prisons in HCM City and neighbouring provinces.
Since it was launched in 2011, "The Journey of Trust" programme has assisted more than 2,400 young former addicts and 1,600 former inmates to get jobs, Hồ Tấn Đạt, deputy chairman of the union, said.
Between 2011 and 2015, 13 legal consulting sessions were held at nine prisons with the participation of more than 1,100 inmates. This year, five sessions have been organised at four prisons.
About 200 inmates in Long Hòa Prison in southern Long An Province and 150 inmates in Bố Lá Prison in southern Bình Dương Province will receive legal consultations on August 27 and 30, respectively. The inmates will be granted amnesty ahead of National Day which falls on September 2.