Some mementos from late President Hồ Chí Minh held by a French peace activist and his family were given to the Hồ Chí Minh Museum yesterday.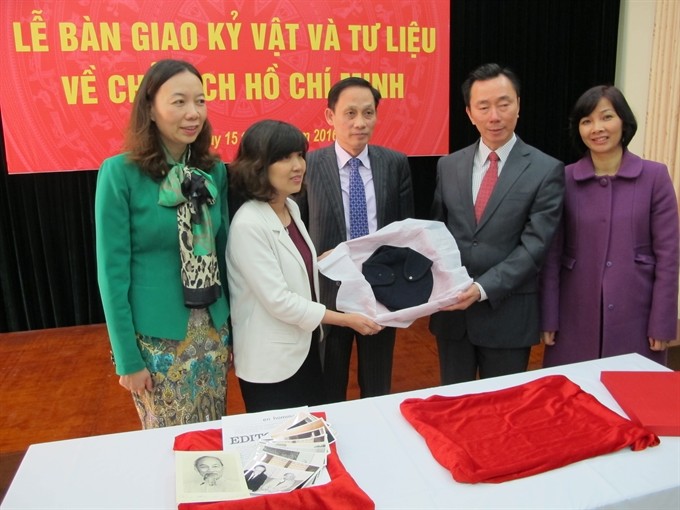 Not just knick-knacks: Việt Nam's Ministry of Foreign Affairs in Hà Nội organised a ceremony yesterday to hand over mementos to the museum.
Late French physics professor Pierre Biquard and his family kept the objects safe for many years.
Việt Nam's Ministry of Foreign Affairs in Hà Nội organised a ceremony yesterday to hand the souvenirs over to the museum.
The mementos include a kepi hat, a portrait of Hồ Chí Minh (with a handwritten dedication to Biquard in January 1969), 10 photos from the French Peace movement's visit to Việt Nam, and photocopies of four newspaper pages featuring articles on the president.
According to the remaining preserved documents and a statement from Biquard's family, in January 1969, as a member of the National Peace Movement in France, Pierre Biquard visited Việt Nam to support the country in its war with the US, along with others in the movement.
President Hồ Chí Minh received the delegation at the Presidential Palace in Hà Nội. When bidding them goodbye, the president noticed Biquard was not wearing a hat, despite the cold weather. The leader offered him a woollen kepi hat. This gesture touched Biquard, who often recalled this moment with his family members.
Biquard was born in 1901 and died in 1993. He was a physics professor and an ardent peace activist. He took part in diverse activities to protest the American War in Việt Nam, particularly the use of chemical weapons by American soldiers.  
After his death, his family held onto the hat. They said several individuals and organisations had expressed a desire to buy this hat, but the family had refused all offers. Instead, they offered the mementos to the Vietnamese Embassy in France. 
The story of the hat was uncovered by French historian Alain Ruscio, who helped Biquard's family make contact with the embassy.
The historian said the hat, while a small gift, was a vivid symbol of the Franco-Vietnam friendship and solidarity.
"It's a great honour for us to receive the mementos of the president," Nguyễn Thúy Đức, director of the museum said. "I believe they will help the Vietnamese people and our international friends gain a deeper understanding of President Hồ Chí Minh's warm sentiments towards our French friends, who passionately supported the Vietnamese people's struggle for national independence, peace and unification."
The objects are on display at the museum and will be presented to the public in August at an exhibition honouring the president's revolutionary cause, on the occasion of the 70th anniversary of his first visit to France as president.