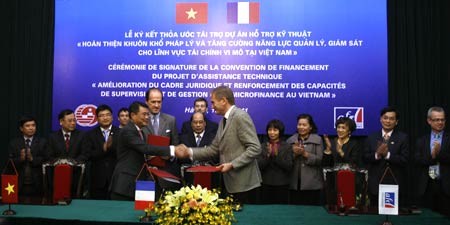 At the signing ceremony (Photo: Website of government)
The State Bank of Vietnam, the French Development Agency and the Embassy of France in Vietnam signed a non-refundable grant agreement worth 1 million euros for Vietnam's microfinance sector on Tuesday in Hanoi.
The agreement aims to improve the legal framework and strengthen supervision and management of the microfinance sector in Vietnam.
Focus will be on building and developing the sector economically and sustainably so as to serve the needs and demands of the poorer   Vietnamese people and offer to reach out to the smallest of micro enterprises.
On December 6, the Prime Minister approved the microfinance project until 2020.