The French naval ship Vendemiaire carrying 92 officers and crew members yesterday docked at Tien Sa Port in the central coastal city of Da Nang, paying a friendly visit to the city.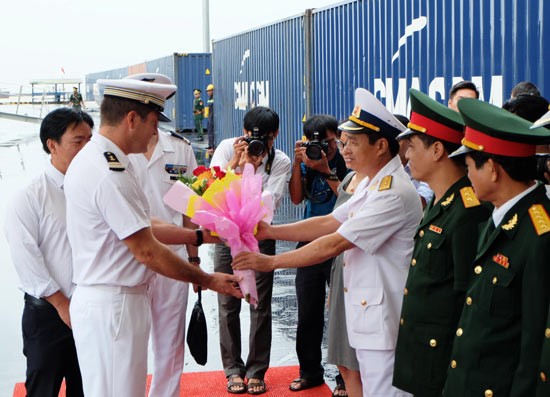 Representatives of the Vietnam People's Army welcome the ship crew.(Photo:SGGP)
The welcome ceremony was the presence of representatives of the Foreign Affairs Department of the Defense Ministry, the Navy Zone 3 High Command, Military Region 5 High Command, Border Guard High Command and the Da Nang Department of Foreign Affairs.
During five day visit to Vietnam, the delegation will pay a courtesy visit to leaders of the People's Committee of Da Nang city, the Navy Zone 3 High Command; tour well- known landscapes at Da Nang, Quang Nam and others; and join in exchange and training activities with Vietnam naval force.
Marine national ships bearing the name Vendemiaire is one of six French modern warships with its weight of 2, 950 tons, 93, 5 length, 14 meters width, and 4, 4 meters waterline. The ship is equipped with gun boat, missile system, helicopter and modern equipments.
This is the fourth time that the French naval ship Vendemiaire arrived in Vietnam.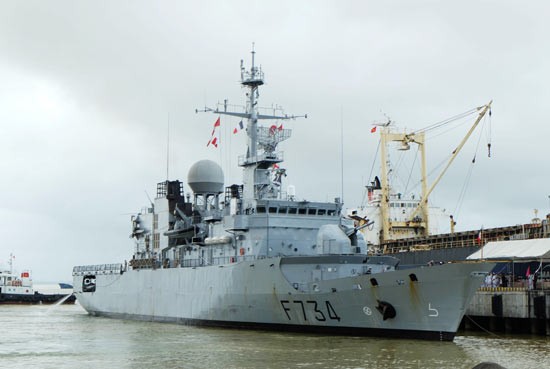 French naval ship Vendemiaire (Photo:SGGP)